Book a School or Library Visit with Rebecca!
Rebecca Behrens is the author of the critically acclaimed middle-grade novels When Audrey Met Alice, Summer of Lost and Found, The Last Grand Adventure, The Disaster Days, and Alone in the Woods—all of which seamlessly blend well-researched fact with engaging fiction. Her short stories have appeared in several issues of Scholastic's classroom magazines Storyworks and Scope. A former textbook editor, Rebecca has also worked as a production editor of children's books at major publishing houses, so she loves talking about the entire process of how a book is created—from messy first drafts to reprints.
She currently offers the following presentations:
How a Book Is Made: An inspirational and educational talk on a writer's path to publication, with examples of all the stages of the publishing process (can be adapted to focus on publishing careers)
Fascinating People and Famous Places: A CCSS-friendly discussion of writing fiction about real people and places, with information on her research process
Fascinating People and Famous Places: A Writing Workshop: A ninety-minute writing workshop on strategies for writing real people and places, in the past and present (maximum of 30 attendees)
The Facts in Fiction: A CCSS-friendly discussion of writing fiction based on scientific and historical facts, with information on her research process
Publishing: Worst-Case Scenarios: Inspirational and educational "real talk" about the writing and publishing process, with lots of firsthand examples. This presentation helps young writers know that mistakes are part of the creative process!
Rebecca's presentations and workshops are great for young readers in grades 4-8. She's also available to speak to high-school students as well as adult groups of teachers, librarians, and parents.
Rebecca's education and background:
A decade of editorial and production editorial experience for major trade and textbook publishers
MA in Comparative Literature, The Graduate Center/City University of New York, NYC
BA in Psychology and Spanish, Northwestern University, Evanston, IL
Some recent and upcoming visits, workshops, and Skypes: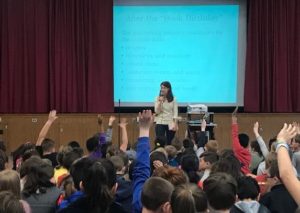 EAGLE School in Madison, WI
Elm Lawn Elementary in Middleton, WI
New York Society Library
St. Francis Academy in Union City, NJ
The Dwight School in New York, NY
The Young Women's Leadership School in New York, NY
Beck Elementary in Fort Worth, TX
Reedsburg Public Library
SCBWI Metro NY Writers Day
Thoreau Elementary in Madison, WI
Explore Charter School in Brooklyn, NY
Thalia Book Club Camp at Symphony Space in New York, NY
Amelia Earhart Festival in Atchison, KS
New Canaan Library
The Hewitt School in New York, NY
Oliver Wolcott Library in Litchfield, CT
Tamarac Elementary in Holtsville, NY
Bloomfield Middle School in Bloomfield, NJ
Roosevelt Middle School in West Orange, NJ
Byram Township Intermediate School in Stanhope, NJ
Fredon Township School in Fredon, NJ
Lamar Middle School in Flower Mound, TX
Bowie Middle School, Crockett Middle School, Lady Bird Johnson Middle School, and Lamar Middle School in Irving, TX
Our Lady of Pompeii School in New York, NY
Rebecca has also presented at the Wisconsin Library Conference in 2014, the AASL National Conference in 2015, and nErDcampNJ and nErDcampLI in 2017, 2018, and 2019.
Fees: They're negotiable (I know how meaningful it is to connect young readers and writers with authors), but they generally range from $300 for one local (tri-state NY area and the state of Wisconsin) presentation to $1200 for an out-of-state full-day visit (multiple presentations, lunch, and signing), plus expenses.
Book-club Virtual Visits!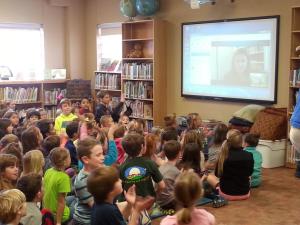 Rebecca is available for complimentary virtual (e.g., Skype, Zoom, Hangouts) visits with book clubs (of all ages) that are discussing When Audrey Met Alice, Summer of Lost and Found, The Last Grand Adventure, or The Disaster Days. Check out their book-club discussion guides here, here, here and here.
Contact Rebecca for more information.