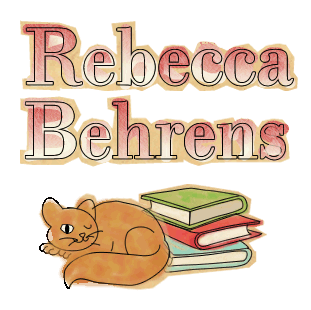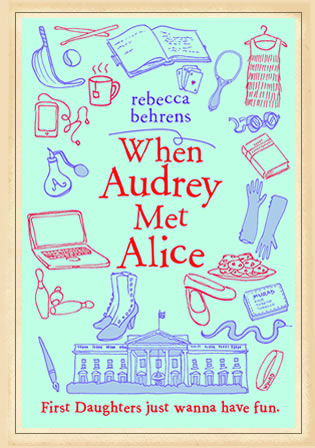 When Audrey Met Alice
Sourcebooks Jabberwocky, Ages 9+
Hardcover ISBN-13: 9781402286421
Paperback ISBN-13: 9781492617679
When frustrated First Daughter Audrey Rhodes discovers Alice Roosevelt's secret diary hidden beneath the White House floorboards, she's inspired to ask herself, "What would Alice do?" 
It is ridiculously difficult to get a pizza delivered to 1600 Pennsylvania Ave.
First Daughter Audrey Rhodes can't wait for the party she has planned. The decorations are all set, and the pizza is on its way. But the Secret Service must be out to ruin her life, because they cancel at the last minute for a "security breach," squashing Audrey's chances for making any new friends. What good is having your own bowling alley if you don't have anyone to play with?
Audrey is ready to give up and spend the next four years totally friendless—until she discovers Alice Roosevelt's hidden diary. The former first daughter's outrageous antics give Audrey a ton of ideas for having fun . . . and get her into more trouble than she can handle.
Order the hardcover edition from: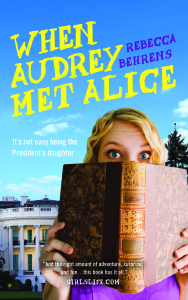 Order the paperback edition from:
Awards, Accolades, and Lists for When Audrey Met Alice:
Praise and Press for When Audrey Met Alice:
News! From The Hollywood Reporter: "White House-Set Novel 'When Audrey Met Alice' Optioned" 

. . . When Audrey Met Alice may pique middle-grade readers' interest in Teddy Roosevelt's tenure as president, as well as in the dramatic improvements to women's rights over the course of the 20th century. Behrens includes a bibliography that can get young researchers off to a good start. But that laudable end, which should please teachers and librarians . . . shouldn't dissuade those who are looking for nothing more than an entertaining middle-grade romp—albeit one set at America's most famous address."
—Sarah Harrison Smith, The New York Times

This charming debut brings Alice Roosevelt to life when 13-year-old 'first daughter' Audrey finds Alice's century-old diary and turns to it for advice . . . An appealing journey and a fascinating life."
—Kirkus 

[An] entertaining debut . . . Details of life in the White House, combined with Audrey's more ordinary struggles (including the potential for a first boyfriend), will keep readers hooked."
—Publishers Weekly 

When Audrey Met Alice is a terrific work of blended realistic and historical fiction. . . . The combination of humor, history, light romance and social consciousness make Rebecca Behrens's debut novel a winner."
—BookPage

Teens will find Alice's wild diary entries outrageous and riveting. Girls, especially, will fall in love with her as she sneaks champagne and her pet garter snake into dinner parties, dances on the roof in her undergarments, and much more. Behrens's conversational writing style keeps the story moving, and will engage even reluctant readers. This book aims to inspire and stir young girls to unearth their inner Alice Roosevelt and to 'eat up the world.' A rowdy and winning addition."
—School Library Journal

The juxtaposition of Audrey and Alice's stories creates an interesting counterpoint of past and present . . . the first-person narrative is consistently engaging. An enjoyable first novel."
—Booklist

Hidden under a floorboard for a hundred years, it is in Alice Roosevelt's diary that Audrey discovers a kindred spirit. Audrey learns about herself and how to appreciate and even enjoy her new role as she reads and sometimes copies Alice's exploits. There is a welcome author's note explaining that although Alice Roosevelt was the actual daughter of President Theodore Roosevelt, the Alice who Audrey 'met' is a fictional character inspired by the real Alice."
—VOYA, 4/4 quality rating

Becoming empowered and independent with the help of Alice's journal, Audrey creates a bit of mischief and mayhem of her own. Featuring Alice Roosevelt's fictional journal entries throughout the story supplies an interesting comparison of Alice's historical time period versus Audrey's. Readers will enjoy Alice's antics and cheer for Audrey's transformation."
—Library Media Connection, RECOMMENDED

As the protected daughter of the first woman president, Audrey Rhodes is socially isolated and miserable until she discovers the hidden diary of Alice Roosevelt, a kindred spirit. Behrens's premise combines unique circumstances with typical teen dilemmas . . . the White House setting and sympathetic narrator will win some fans."
—The Horn Book Guide

How Audrey comes to terms with her new identity is a journey young readers will enjoy."
—Shirley Nelson, Children's Literature

Rebecca Behrens creates an amusing and exciting story about life in the White House that translates to any girl who has ever felt left out. From heartwarming moments to LOL sitches, this book has it all."
—Girl's Life

This book offers both a fun window to little-known presidential history and a relatable story about a kid feeling pushed aside by her own family. An excellent middle-grade choice."
— Statesman Journal

When Audrey Met Alice is a noteworthy debut with two memorable and relatable heroines . . . Rebecca Behrens writes convincingly about the dynamic of the First Family and the tension between public and private selves."
—Emma Kantor, Teenreads

Rebecca Behrens combines charming and quirky characters from two different centuries, creating a believable, engaging story that tugs at the heart and tickles the funny bone."
—Nikki Loftin, award-winning author of The Sinister Sweetness of Splendid Academy and Nightingale's Nest

A fun look into the private life of an inspiring first daughter."
—Marissa Moss, bestselling author of the Amelia's Notebook and Mira's Diary series
"Historical Friction," an interview in the Sunday, February 23, 2014 Wisconsin State Journal
"Just Read It | Rebecca Behrens," a feature in the Sunday, March 9, 2014 Wisconsin State Journal
"Bus Rides Offer Chance for Book Breaks," Bibliofiles feature, July 23, 2015 Albany Times-Union
"Books to Travel With for the Holidays," Forbes, December 12, 2018