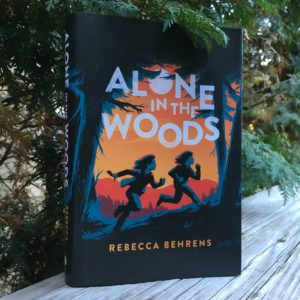 For each book I've released, I've spent time in my home state of Wisconsin, visiting schools and talking with young readers. And during every single Q&A, the same question has come up:
Have you written any stories set in Wisconsin?
It took me years, and four other books, to find the right story, but now I can finally answer: Yes!
My latest middle-grade novel, Alone in the Woods—which releases today!—is a thrilling survival story about Jocelyn and Alex, two former best friends who must work together to stay alive after getting lost in the Nicolet National Forest. But in some ways, it's a love letter to my beautiful and ecologically rich home state. Set in both Madison—where I was born and raised, and still spend much of my time—and the Northwoods, I hope I captured the magic of a Wisconsin summer in its pages. From tubing on a river (my family used to go up to Twelve Foot Falls on the Pike River in Marinette County), to hiking in the Chequamegon-Nicolet National Forest (the Cathedral Pines is one of my favorite spots—the old-growth trees are mesmerizing), to enjoying a buttermilk doughnut at Paul Bunyan's Cook Shanty—those cherished experiences all helped inspire the book's setting.
However, the girls' harrowing adventure—in which after a tubing mishap, they wander off a trail and find themselves hopelessly lost, wearing only swimsuits and water shoes and with just the contents of their backpacks to help them survive the elements for days and nights—is thankfully not inspired by my own experiences exploring Wisconsin's wild places. Well, except for all the bug bites. Those mosquitoes and deer flies can be vicious!
Reviewers so far have called Alone in the Woods "gripping," "brisk," "dangerous," and "compelling," and I hope readers will race to find out what happens to Jocelyn and Alex during their adventure in the woods. But as Emily Graham for Booklist notes in her review, its heart, this story is about surviving friendship as much as a forest: "The most tender wounds here are the emotional ones nursed by the two girls. . . . It's simply the complicated business of growing up and outgrowing past selves. In this classic adventure story with the heart of a relationship drama, it's easy to root for the complex girls and their deep friendship." I couldn't ask for a better review than that!
I hope you'll join me on Jocelyn and Alex's Northwoods adventure. And if reading this book makes you hungry for s'mores, I heartily recommend
this recipe
for s'mores bars. 🙂