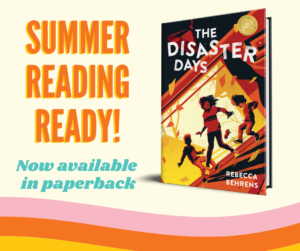 The Disaster Days releases in trade paperback today!
Now all five of my books are available in that format–my personal favorite to read, because it's perfect to stash in a beach/pool bag, a backpack, or hold onto while you're standing on the subway. (I'll never forget the time I tried to read Anna Karenina in hardcover on my commute . . .)
It's great timing, too, because I recently found out that The Disaster Days has been selected for a few state reading lists:
the Florida Sunshine State Young Readers Award Book (Grades 3-5) for 2021-2022!
the Maryland Black-Eyed Susan Book Award list (Grades 6-9) for 2021-2022!
the 2022 Land of Enchantment Book Award!
And Alone in the Woods is on a couple of lists, too:
the 2021 Kansas National Education Association Reading Circle Recommended List!
the 2021/2022 Maine Student Book Award List
It's really exciting to know that my stories will be on so many school and library shelves this next year.
Happy summertime, and happy reading!