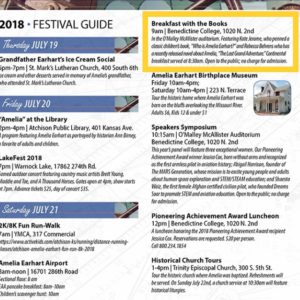 On July 21, I was thrilled to be a part of the Amelia Earhart Festival–the annual celebration of her birthday in her birthplace of Atchison, Kansas. Readers of The Last Grand Adventure will know what a significant place Atchison was in Amelia's (and her sister, Muriel's) life. For me, it was a place I came to know, and love, through research. This passage from Muriel Earhart Morrissey's biography of Amelia, Courage Is the Price, shows why:
"Midsummer evenings have always been a time of mystic spellbinding for the young. The long August twilights wrought their peculiar magic upon Amelia and me when we were little girls in Atchison. I remember the symphony of summer sounds; the chirping of crickets and of the invisible tree-toads . . . As the last carnation and saffron clouds faded, bats began to dart across the darkening sky, and, as if in defiance of these harbingers of the nightfall, fireflies twinkled in the garden and across the way among the peach and pear trees in the orchard."
Such a lovely description! How can you read that and not want to write about Atchison in the summertime?
While writing When Audrey Met Alice and Summer of Lost and Found, I was able to visit my settings in person. For The Last Grand Adventure, the closest I'd gotten was Google Earth. So it was incredibly meaningful to see the town for myself, and to meet the warm and welcoming people who live there. And what a weekend to visit–the festival draws in thousands of Earhart experts and enthusiasts and leaders in STEM and aviation fields to celebrate not just Amelia's birthday but her incredible life and accomplishments. I had a great time sharing my book and also learning so much more about her life and legacy.
[ngg_images source="galleries" container_ids="4″ display_type="photocrati-nextgen_basic_thumbnails" override_thumbnail_settings="0″ thumbnail_width="120″ thumbnail_height="90″ thumbnail_crop="1″ images_per_page="20″ number_of_columns="0″ ajax_pagination="0″ show_all_in_lightbox="0″ use_imagebrowser_effect="0″ show_slideshow_link="1″ slideshow_link_text="Some favorite pictures from the day:" template="/home/content/20/11722220/html/wp-content/plugins/nextgen-gallery/products/photocrati_nextgen/modules/ngglegacy/view/gallery-caption.php" order_by="sortorder" order_direction="ASC" returns="included" maximum_entity_count="500″]