Last weekend, I hopped on Amtrak and headed up to Boston for the ALA Midwinter conference. (The ride is actually pretty scenic, as the train hugs the coastline through Connecticut and Rhode Island, so you can see the ocean, ferries and fishing boats, and charming towns like Mystic along the way.)  It was a quick trip–I got in on Friday afternoon and twenty-four hours later I was already chugging back to New York. But what a great twenty-fours hours they were!
On Friday I got to meet up with some fellow New Leaf Literary authors and our agents, Suzie Townsend and Pete Knapp. Here's Team New Leaf: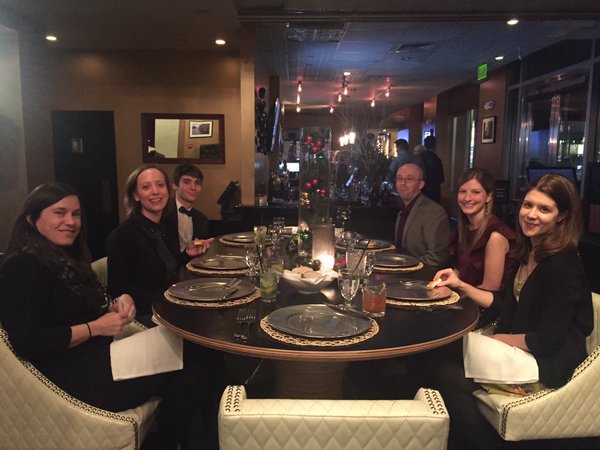 We spent our evening enjoying wine and chocolate at a shmancy party with some fantastic librarians. And I mean enjoying it–the spread involved a make-your-own chocolate crepe bar! But the best part, of course, was getting to talk about books with our librarian friends. I love hearing about what they're reading, what library life is like, and which books their readers adore.
The next morning, I got breakfast with the Aladdin/Simon Pulse team before heading to the exhibit floor. I'd say being on the floor is like being a kid in the candy store, but as a child my excitement level would've been at the same height for a candy store or a bookstore. It was so fun running around seeing all the shiny new titles on display and running into other book people. I gathered enough ARCs that I have a huge bruise on my left shoulder from the tote bag–but it'll heal, and it's worth it. (Once I finish them, I have a school librarian in mind to share them with.)
To top it all off, I had just enough time before my train to run into Faneuil Hall and grab a slice of Boston Cream Pie for the road. When in Boston, right? 🙂