I came home to a great surprise on Monday night: a package from Alyson Heller, my editor at Aladdin/S&S. I started ripping it open before I even got up the stairs. Inside, I found: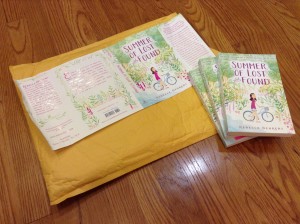 ARCs! And a jacket proof–the first peek I've gotten at all the true colors and lovely effects (like shiny spot gloss).
I adore the book design–thanks to Laura Lyn DiSiena at Aladdin for making the book look beautiful, and to Robyn Ng for the gorgeous art.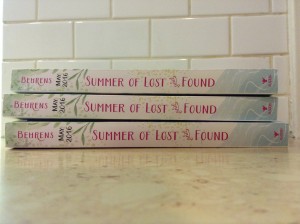 It's really cool how the foliage and water continue onto the spine.
Inside, the book is just as lovely–and there's even a map!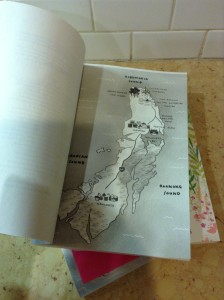 Maps in books are one of my favorite things, and I'm thrilled that Summer of Lost and Found includes one of Roanoke.
Writing takes so much work, dreaming, and hope–and sometimes uncertainty. It's kind of amazing when something that started as an idea and was slowly (or very slowly, in my case) nurtured into document finally shows up in your mailbox. It's a special moment to hold the story, in book form, in your hands.