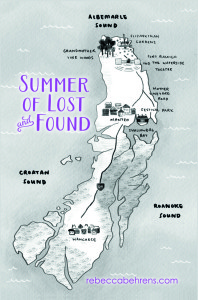 Summer of Lost and Found is on shelves today! Hip hip hooray!
I hope readers will have as much fun discovering the past and present Roanoke Island as I did while writing it. Thanks to everyone who helped get this book into the world, especially: my agent, Suzie Townsend, and her assistant Sara Stricker; and my editor, Alyson Heller, publicist, Faye Bi, and the whole team at Aladdin.
If you'd like a signed copy of Summer and you can't make one of my events, you can order one from Books of Wonder–or send me an email, and I'll pop a personalized bookplate for you in the mail.
If you'd like to read a little more about the book and my experiences writing it, here are some interviews, reviews, and guest posts to check out:
A conversation with author Caroline Starr Rose
An interview with author Nikki Loftin
An interview in the InkSplat newsletter
A review from Bookshelf Fantasies
Interview with Pop! Goes the Reader
And last but not least–it's time to announce the winner of the pre-order giveaway! Annette Burns won the beautiful bag of blurber books and school/library donation. Thanks to all who entered.
Happy Reading!