It's been a busy couple of months–more on that soon! But I'm belatedly excited to share a few more snippets from trade reviews for The Last Grand Adventure:
"Informed by history, Behrens's narrative treasures family relationships and celebrates courage." —Booklist
"Normally unadventurous twelve-year-old Bea ("I left my adventure journal empty and my worry journal full") is a sympathetic narrator as she frets about her place in her newly blended family and her grandmother's wavering memory. The tantalizing thread of possibility about Amelia Earhart and the letters she—or somebody—has been writing to Pidge adds alluring mystery." —BCCB
"Historical fiction lovers are in for a treat with this heartfelt tale of discovery and hope. . . . This story has much to love, from the touching development of Bea and Pidge's relationship to Bea conquering her fears and discovering the appeal of adventure. . . . VERDICT An excellent purchase for readers who enjoy a strong dose of adventure and solid character development in their historical fiction."—Darla Salva Cruz, School Library Journal
I'm blushing, SLJ! It's always a great feeling when a reviewer seems to really get the story you were trying to tell. I'm grateful to these reviewers for their thoughtful and insightful reviews.
The Last Grand Adventure will be out next week, and it's only fitting that I hit the road to share Bea and Pidge's story with readers. Here are the places I'll be in March and April: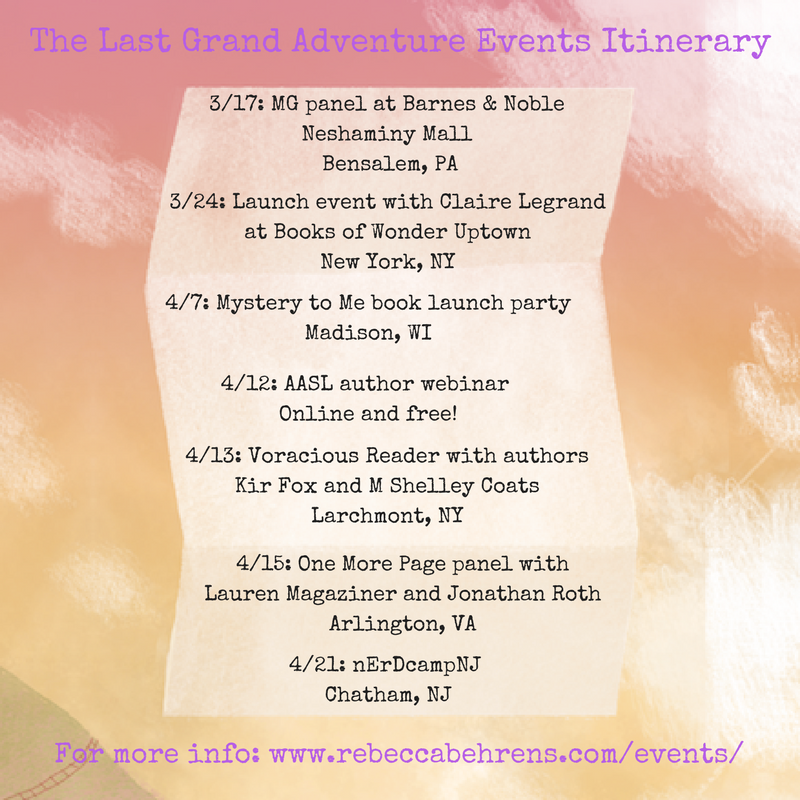 More events for the summer are in the works: I'll be at Bethany Beach Bookstore in June and I'm thrilled to share that I'll be at the Amelia Earhart Festival in Atchison, Kansas, this July! I'll keep the Events page of my site updated with all the details.