My mom and I have been discussing books since I was a kid–not surprising, considering I have always been a reader and she is a former English/Language Arts teacher. Over the years, reading together has helped us understand our own relationship better, see each other as individuals, and find things to talk about other than the piles of dirty clothes on my floor. Now that I live a thousand miles away, we are still using books to connect. We mail each other books after reading and talk about them over the phone. (Some recent shared reads are: The Guernsey Literary and Pota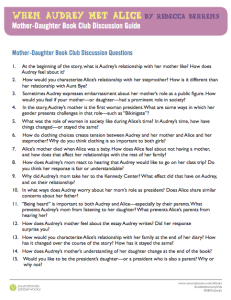 to Peel Society, Gone Girl, A Death-Struck Year, and Wish You Were Italian. She has a copy of All The Light We Cannot See waiting for me.) The fun my mom and I have discussing books inspired me to write a mother-daughter book club discussion guide for When Audrey Met Alice. Sourcebooks made it into a pretty PDF, and you can find it on my Resources page.
Who do you love to talk books with?