Publishers Weekly had a great article about the next steps for some Egmont USA employees (congrats, Jordan, Alison, and Michelle!) along with information on Egmont's Last List.
The Last List is a publicity and marketing campaign for Egmont's Spring 2015 titles–all of which are still being distributed and sold by Penguin Random House. These authors need all the support they can get with launching their books, so please check out the blog hop hosted by Cuddlebuggery and the group's Tumblr. Here's a handy reference for the great Egmont USA books still TK: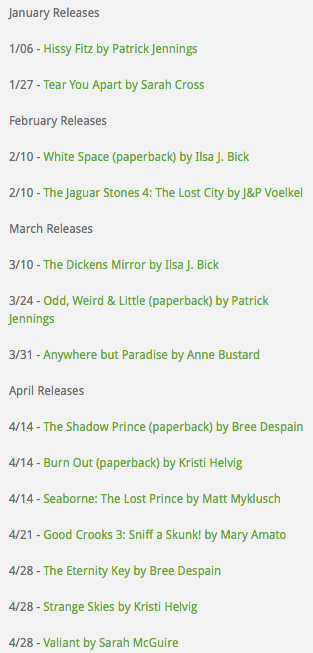 In the midst of the sadness of Egmont's closing, it has been heartening to see how the kidlit community has banded together to help the affected publishers and authors–myself included. Thanks for all the support and well wishes!
(And stay tuned for news I can't share quite yet on Summer of Lost and Found.)