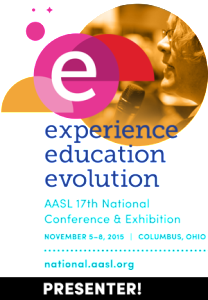 I'm going to AASL 2015 in Columbus!
Friend and fellow Class of 2K14 author Gayle Rosengren and I are presenting on Friday, November 6 from 11:20-12:20 (Room C212). Here's a little about our presentation:
Making It Real, authors Gayle Rosengren and Rebecca Behrens will suggest creative ways for librarians to help bring history to life as they prepare students to meet Common Core State Standards. Strategies include multimedia displays, interactive library programming, writing workshops, author Skype visits, and outreach with local historic sites. The authors will provide tools such as a multimedia planning template that can be filled out for any title, book talks, and recommended media lists.
We've had a lot of fun creating this presentation, and hope you'll join us if you're attending the conference.
We'll also be in the Author Signing Booth from 1:00-1:30 on Friday. Stop by and say hi! I'll have my first pieces of Summer of Lost and Found swag, and plenty of When Audrey Met Alice bookplates, stickers, and more.