Hi! You made it over here to my blog's new home.
I figured now would be a great time to mention how wonderful working with Biondo Studio has been. I was pretty scared about leaving my comfortable Blogger home and venturing into the world of WordPress and a static website. For a while, I researched web designers and drooled over other authors' websites. It didn't take that long of a while before I realized that my favorite sites were always created by–you guessed it–Biondo Studio. So I sent them an email, and here we are now, at my shiny new website, which I love.
Denise and John at Biondo Studio are awesome. When we first started discussing what I wanted my site to look like, I think it sounded like I was creating some kind of bizarre word-association poem: "Doughnuts. I love the beach. Orange cats are my favorite. I write historical and contemporary fiction. I live in NYC. Did I mention that I love doughnuts?" If had made a homepage from that, it would look like this: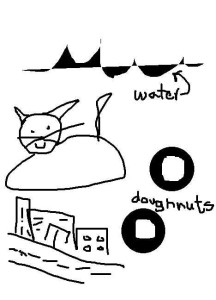 But Denise and John took that jumble and made something perfect (and coherent) (and really cute). I hadn't really known how to communicate what I wanted, but it didn't matter: Biondo Studio has design ESP.
From there, it was smooth sailing. Denise and John were patient when it took me approximately twenty-seven tries to figure out a) who I had registered by domain with, and b) how to access it.  And they didn't bat an eye when in true production-editor form, I kept finding the tiniest things to tweak, and tweak, and tweak.
So if you find yourself wanting a new website or a blog tuneup, I can't recommend them highly enough. I'm grateful and happy that they created such a nice home for me online, and that they made the process so easy for someone as scattered and web-designophobic as me!