It's spring!
New York was gorgeous this weekend, and I got to spend all of it wandering around town with one of my best friends, Jessica, who was visiting from Seattle. We walked, we talked, we ate some very tasty vegan chocolate-chai ice cream. We also watched The Butler, which is a great movie. Of course I was interested in the White House setting, and it was a powerful story of life during the Civil Rights movement.
Last week, my mom's book club met for a proper tea party and discussion of When Audrey Met Alice. This was especially meaningful for me because many of the members of her club are my former teachers and librarian–my mom taught for many years at the middle school I attended. These wonderful educators helped make me into the reader and writer I am–and I'm so grateful for the nurturing learning environment they created for me and so many other students. Here's a picture of them at the WAMA discussion: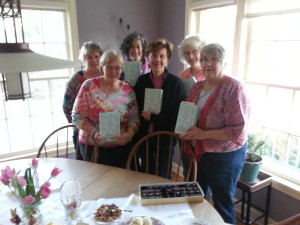 Thanks, Mom, Sharon, Laura, Linda, Linda, and Mary! (And Jessica and Jane, who aren't pictured)
And in other WAMA news, I was thrilled to find out last month that it's already going back to press! As Alice would say, that's bully good.
Last night, I scooped Natalie Lloyd's A Snicker of Magic up off my nightstand. This book, guys. It's spindiddly.
How was your weekend?