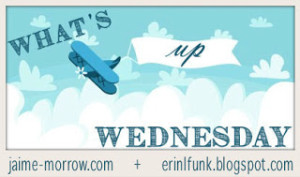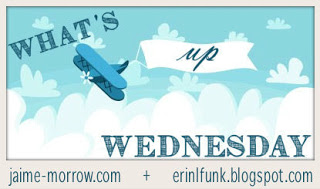 What's Up Wednesday is a weekly meme that helps readers and writers touch base with blog friends. You can find the link widget (and cute buttons!) on Jaime's and Erin's blog posts.
What I'm Reading 
I finished  Tiger Lily, which I loved. I also read Brandy Colbert's Pointe, which was incredible. Bookanista rec for that to come next month! Now I'm reading the great MG Esperanza Rising.
What I'm Writing   
I made some slow progress with revising over the past week. I also wrote a short story, kind of randomly. It was an idea that I'd been circling for a while, and I found myself with some extra time on the couch (more on that below), so I just sat down and wrote it. Which was incredibly fun and refreshing.
What Inspires Me Right Now
Cheering for the winners of the ALA Youth Media Awards (and watching my TBR list grow and grow). Celebrating the book birthdays of fellow Class of 2K14-mates and OneFour Kid Lit writers. And anticipating my own book birthday next week (eep!)!
What Else I've Been Up To 
Remember my last What's Up Wednesday post, when I said I did something to my hip in yoga? Well, apparently I'm not so great at anatomy, because it wasn't actually my hip–a doctor's visit confirmed that I have a hamstring injury, from some combination of overuse in running and yoga. It's been a bit of a bummer–I spent the first week after figuring out what was wrong with me doing nothing but rest and ice. Being sedentary and me don't agree, and it will be quite a while before I can run again. But if there is a bright side, it's that I'm learning to slow down a little. Actually, a lot. Being kind to myself is working, and I'm already feeling a lot better. I'm looking forward to running again this spring when I'm good as new (or as "new" as a thirtysomething can be!)–hopefully we'll be rid of Polar Vortexes by then. 🙂
So what have you been up to lately?