So you might have seen this in Publishers Weekly this afternoon (click to make big!):

That's right! I* sold my second book! The Summer of Lost and Found will be in bookstores in 2016. It's full of everything I loved to read about as a middle-grader: history, mystery, beach towns, and ghost stories.
I'm so excited to be working with the uber talented Jordan Hamessley and everyone at Egmont to tell this story.  The way it feels when Jordan shares her editorial vision for your book can only be expressed with a Liz Lemon GIF:
I'll leave you with a picture of the beach at Fort Raleigh National Historic Site, on Roanoke Island. I was there doing research while this deal was coming together, and while a trip to see such a beautiful and historic place would always be special, this serendipitous timing made it even more so.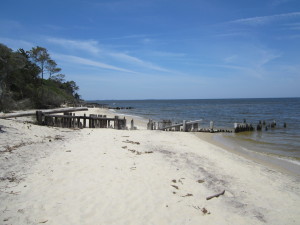 *And by "I," I do mean my fantastic agent, Suzie Townsend. I'm incredibly thankful to her for being such a great advocate for my writing, and to everyone at New Leaf Literary for their amazing support.
ETA: The announcement also ran in the June 13th Publishers Marketplace deal report (you can click to make big). Hooray!