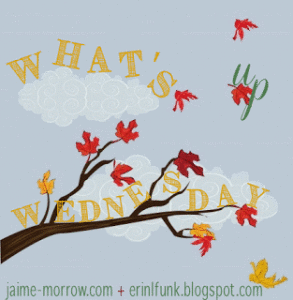 What's Up Wednesday is a weekly meme that helps readers and writers touch base with blog friends. If you'd like to join in, you can find the link widget on Jaime's and Erin's blog posts. I love this idea because it gives a structured, easy way for me to keep up with blogging. Also, the buttons are cute. Thanks for the idea, Jaime and Erin!
What I'm Reading 
I'm still reading The Weird Sisters. I'm kind of lingering in the story, which is nice. I tend to read quickly, and sometimes I forget how satisfying it can be to take more time with a book.
What I'm Writing   
When Audrey Met Alice odds and ends, which are writing-related.  I've come to the realization that some of my writing time, going forward, needs to be allotted to the business-y side of publishing. And that's okay! Otherwise, I'm still on a bit of a writing break. I did open a planning document on Sunday night and had fun brainstorming for an old new idea. I'm toying with the idea of doing a NaNo-inspired November writing marathon.
What Inspires Me Right Now   
I'm going to repeat last week's inspiration: great weather and great books. I'll also add the camaraderie and kindness in the kid lit writing and publishing community (see below).
What Else I've Been Up To
Revealing this new blog, and revealing the cover for When Audrey Met Alice! It was so fun to get to share the cover on Monday, and I am really grateful for the enthusiastic responses to it. (Mundie Kids is helping me give away an ARC, if you'd like to enter to win it!)
IRL: Making progress toward winning the title of Clumsiest Ever–I fractured my toe. By walking into my bathtub. But at least it's an excuse to sit around and read, right?
So what have you been up to lately?