On a warm, nearly cloudless day last week, I took a trip out to Sagamore Hill National Historic Site in Oyster Bay, NY. It wasn't my first time there–I visited in September 2012, shortly after I found out that When Audrey Met Alice was going to become a book. But during that visit, only the grounds of the Roosevelt family's sprawling estate were open to the public. The inside–the 23 rooms in which the Roosevelts (and their "zoo" of pets) dined, read, learned, and played–was shuttered and empty. Now, after a three-and-a-half-year and multimillion-dollar renovation, people can walk through the house again. I had to go see it!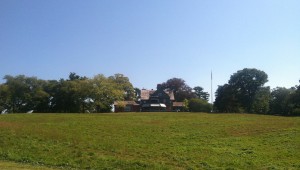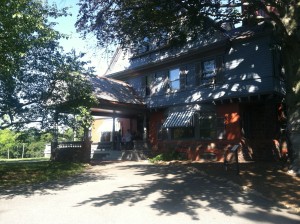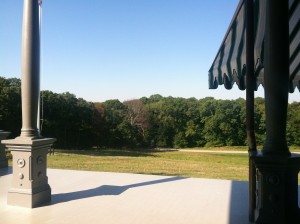 I don't have any pictures from the tour inside the house–to protect the priceless artifacts, no photography is allowed. So I'll have to tell, not show, how exciting it was to see Alice's bedroom view, the 8,000 books in the library she begged to be "let loose" in, and the dining table at which she had to ask each guest three prepared questions. I loved hearing details of family life at Sagamore Hill from the knowledgeable and friendly ranger leading the tour–like that Alice refused to share a bedroom with any of her siblings, but did let her privacy-seeking brother sublet her closet.
At Sagamore there's also a museum in the Old Orchard building (where Alice's brother Ted lived). I took this photo of a "picture letter" that Roosevelt wrote his daughter Ethel while he was away. His sketches are so charming, and I love the thought of the president sitting down to create them when he couldn't make his 4:00 appointment to play with his kids.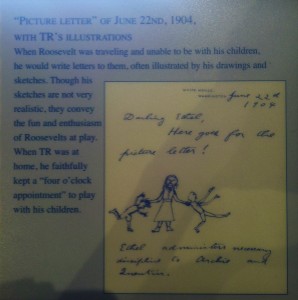 If you want to visit the house: visit the Sagamore Hill NHS site for more information!