On Wednesday morning I hopped on a bus and headed south so Audrey and Alice could meet some D.C. readers. Once I got into town, I decided to stretch my legs by taking a walk to 1600 Pennsylvania Avenue.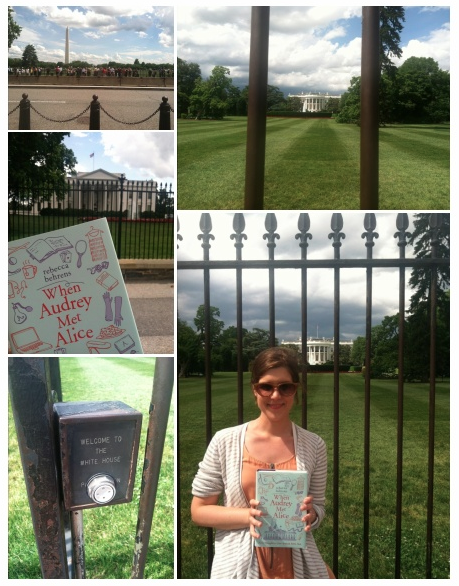 What Would Alice Do with three free hours in the capital city? Admittedly, she probably would not take a bunch of book selfies. But sneaking onto the roof of the White House wasn't really an option for me.
Then I took the Metro out to Arlington for a panel event with author friends and fellow 2014 debuts Jen Malone (You're Invited and At Your Service) and Tara Dairman (All Four Stars and The Stars of Summer) at One More Page, which is the bookstore of my dreams. They have eight book clubs, an awesomely curated selection of books, and incredibly good local and artisanal chocolate. We had a full house for our panel, and the audience asked great questions!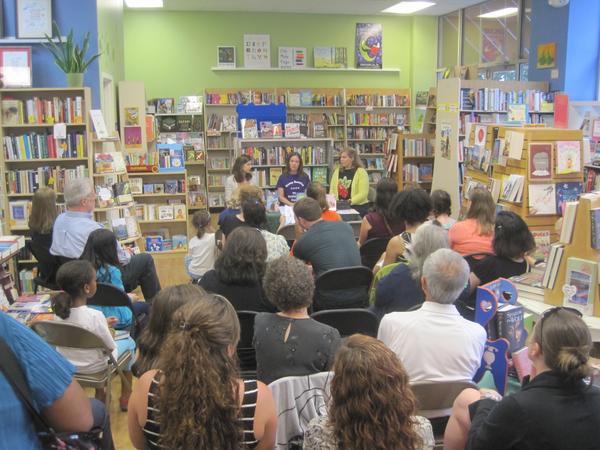 I also had the chance to meet up with some old friends (thanks for coming, Jocelyn and Lilia!) and to meet writer friend Jennifer Pickrell (who writes wonderful YA) in person, which was great.
Afterward I raced back to Union Station–worrying the whole way because D.C. friends had warned me I wasn't giving myself quite enough time–and made it with twenty minutes to spare before my train. Unfortunately, my train didn't make it (it was cancelled) so I had to cool my heels for an hour and a half. I didn't get back to NYC until after 2:00 a.m., but I had a lot of books to entertain me on Amtrak.
Definitely a day that was worth traveling through five states and D.C., and back–although next time I hope to stick around a little longer!