I'm off for a week of travel: First to Las Vegas for the ALA Annual Conference, then to Wisconsin to relax and spend time with family–and also visit a favorite indie bookstore, Mystery to Me.
If you're at ALA, please come say hi when I'm signing in the Sourcebooks booth on Sunday, from 3:30-4:30 p.m. Here's more info on that.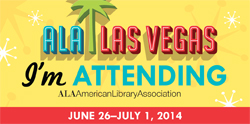 Or check out the Class of 2K14's super fun trivia event, with Jay Asher and Josephine Angelini. My suitcase is full of prizes! Our Trivia Showdown is on Sunday from 11:00-12:30, and here's more info on that.
And, finally, a link to the Events page for Mystery to Me. I'll be there on Wednesday, July 2, from 6:00-7:00 p.m.
I'll have lots of pictures (and words) about ALA once I'm back. Until then, have a great Fourth of July!