It's time for another Bookanista recommendation: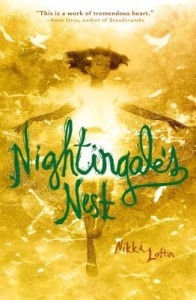 Nikki Loftin's Nightingale's Nest 
Here's the jacket copy from the publisher:
A powerful novel about friendship and family that calls to mind Bridge to Terabithia
Twelve-year-old John Fischer Jr., or "Little John" as he's always been known, is spending his summer helping his father with his tree removal business, clearing brush for Mr. King, the wealthy owner of a chain of Texas dollar stores, when he hears a beautiful song that transfixes him. He follows the melody and finds, not a bird, but a young girl sitting in the branches of a tall sycamore tree.
There's something magical about this girl, Gayle, especially her soaring singing voice, and Little John's friendship with Gayle quickly becomes the one bright spot in his life, for his home is dominated by sorrow over his sister's death and his parents' ever-tightening financial difficulties.
But then Mr. King draws Little John into an impossible choice—forced to choose between his family's survival and a betrayal of Gayle that puts her future in jeopardy.
Inspired by a Hans Christian Andersen story, Nightingale's Nest is an unforgettable novel about a boy with the weight of the world on his shoulders and a girl with the gift of healing in her voice.
Isn't the cover stunning? It might be my favorite of the year. I was lucky enough to read an ARC of this incredible MG last fall, and I've been sitting on my recommendation until closer to Nightingale's Nest pub date (which has been hard, as I wanted to tell the whole world to read it!). But I've still thought about this book countless times since I turned the last page–it is a story that takes root in your heart. Powerful and moving, Nightingale's Nest is a story of grief, love, and forgiveness, told in lyrical prose that remains accessible to MG readers. The magical realism elements were perfectly woven into a starkly realistic setting. One thing I appreciated so much was how sensitively and truthfully Nightingale's Nest portrayed a family struggling not only emotionally but financially, and how the two can relate. Nikki is such a gifted writer and storyteller: the delicious The Sinister Sweetness of Splendid Academy (also a re-imagining, of Hansel & Gretel) was one of my favorite reads of 2012. It recently released in paperback. Both books are truly unique, and wonderful.
Nightingale's Nest releases on February 20 from Razorbill/Penguin.
See what my fellow Bookanistas are recommending today: