I'm thrilled to share that The Disaster Days is an official 2020 ILA Teachers' Choices Selection. From ILA's website: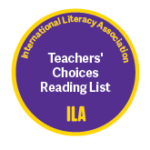 Our Choices reading lists, shaped by thousands of students and educators across the United States, serve as a valuable resource—particularly in these times of remote and virtual learning. They bridge the distance by connecting us with stories that kids, teens, and teachers find inspiring, comforting, and empowering. . . . Teachers' Choices identifies approximately 30 books rated by teachers, librarians, and reading specialists as outstanding for curriculum use.
I'm honored! You can view the whole list here. Also, the release of the Choices lists coincides with Children's Book Week–an annual celebration of reading with tons of fun resources for kids, families, and educators. Check it out!