It's time for another Bookanista recommendation: Maria E. Andreu's  The Secret Side of Empty.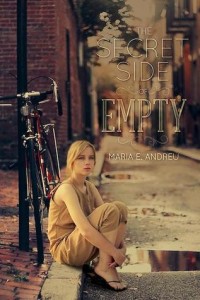 Here's the jacket copy from the publisher:
As a straight-A student with a budding romance and loyal best friend, M.T.'s life seems as apple-pie American as her blondish hair and pale skin. But M.T. hides two facts to the contrary: her full name of Monserrat Thalia and her status as an undocumented immigrant. 
But it's harder to hide now that M.T.'s a senior. Her school's National Honor Society wants her to plan their trip abroad, her best friend won't stop bugging her to get her driver's license, and all everyone talks about is where they want to go to college. M.T. is pretty sure she can't go to college, and with high school ending and her family life unraveling, she's staring down a future that just seems empty. In the end, M.T. will need to trust herself and others to stake a claim in the life that she wants.
Author Maria E. Andreu draws from her personal experience as a (formerly) undocumented immigrant to explore an issue that affects over one million children in the U.S. But while the subject matter is timely, it is M.T.'s sharp, darkly funny voice and longing for a future that makes this story universally poignant.
Protagonist M.T. was one of those rare characters that I felt an immediate connection with–I loved her wry and funny, pitch-perfect teenage voice. I cared about M.T. from the first page, and so reading her story was intense and sometimes painful but ultimately rewarding. This is a powerful story about immigration, abuse, and suicide–but it's an equally powerful story about hope and resilience. And the romance between M.T. and first boyfriend Nate is so achingly sweet and real. I loved this book, and I'd recommend it to anyone who wants to read a good contemporary YA–the fact that it's also an important and honest about about some big social issues makes it even better.
See what my fellow Bookanistas are recommending today: