It's time for another Bookanista recommendation: Jane Kelley's heartwarming and hopeful MG The Desperate Adventures of Zeno & Alya.
Here's the summary from Goodreads: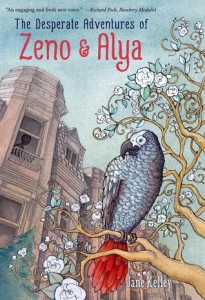 An orphaned African grey parrot who can speak 127 words. A girl so sick, she has forgotten what it means to try. Fate––and a banana nut muffin––bring them together. Will their shared encounter help them journey through storms inside and out? Will they lose their way, or will they find what really matters?
Here is a story that will remind readers how navigating so many of life's desperate adventures requires friendship and, above all, hope.
I totally fell in love with Zeno, the "booful, briyant bird" at the heart of this story—and I'm slightly in awe of the incredible voice Jane Kelley created for the feathered characters in this story, from parrots to pigeons to hawks. I knew a little about the intelligence of African grey parrots before reading this book; now I'm fascinated by them. (Kelley drew from Dr. Irene Pepperberg's research on parrots to write the book—read this article on the famously intelligent real bird Alex to learn more about them.)
But The Desperate Adventures of Zeno & Alya isn't only an animal story; it's also a book about a young girl struggling to fight a devastating illness. I enjoyed the realistic depiction of Alya's loving family (particularly her supportive older brother), who all work so hard to take care of her during her cancer treatment. But I loved that it was through Alya's serendipitous relationship with Zeno that she gained hope and strength.
Without a doubt, this is one of my favorite MG reads of the year: for its richly drawn and relatable characters, skilled writing, and uplifting powerful message.
I'll never eat another banana nut muffin without smiling and thinking fondly of the most brilliant bird in Brooklyn.
See what my fellow Bookanistas are recommending today: