I'm so excited to share the cover for my next middle-grade novel that I'm skipping an introduction. Here it is!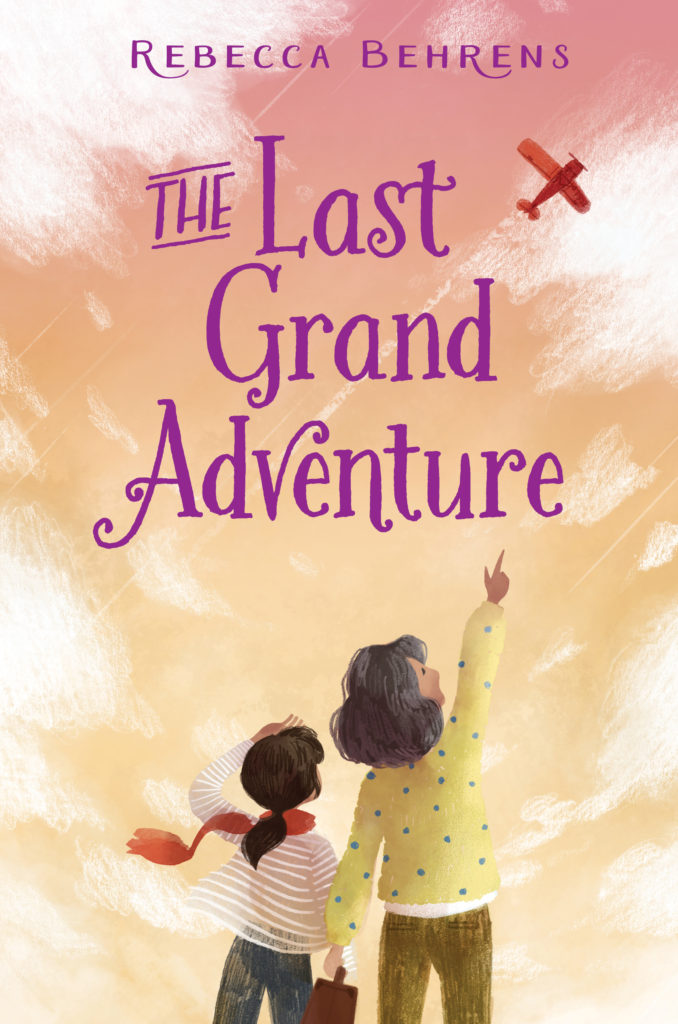 Robyn Ng illustrated it, and Laura Lyn DiSiena designed it–the same team that created the beautiful cover for Summer of Lost and Found. And again they perfectly capture the spirit and setting of my book. I love the vintage font (perfect for historical fiction) and the sunset color palette, and the way my characters, Bea and Pidge, are facing out toward the great wide world.
Before I tell you all about The Last Grand Adventure, here's information on how you can win an ARC and find out (early!) for yourself:
Simply leave a comment on this post to enter–if you'd like an extra entry, you can sign up for my newsletter or tweet about the cover. Full instructions and links below.
About The Last Grand Adventure:
Twelve-year-old Bea finds herself on a unique road-trip with her grandmother as they search for her grandmother's long-lost sister—the legendary Amelia Earhart—in this charming and poignant novel from the author of When Audrey Met Alice and Summer of Lost and Found.
It's 1967 and twelve-year-old Bea is in need of some adventure. Her mother is off in San Francisco, while her father has just gotten remarried in Los Angeles. Bea has gained a younger stepsister, and she's not thrilled about her blended family. So when her ailing grandmother, Pidge, moves to an Orange County retirement community and asks if Bea would spend a few weeks helping her get settled, Bea is happy for any excuse to get away.
But it turns out, her grandmother isn't interested in settling in. What she really wants is to hop a train back to Atchison, Kansas—where she thinks she'll be reunited with her long-missing sister: Amelia Earhart. And she wants Bea to be her sidekick on this secret trip.
At first, Bea thinks her grandmother's plan is a little crazy. But Pidge has thirty years of letters written in "Meelie's" unmistakable voice, all promising to reunite. This might be the adventure Bea needs . . .
With letters in hand, Bea and Pidge set off on their quest to find Amelia. But getting halfway across the country proves to be more of an adventure than either of them bargained for. And their search for Amelia leads to some surprising truths about their family—and each other.
Early Praise
"I loved traveling alongside Bea and her grandmother Pidge on their grand adventure.
Bea learns to embrace courage and sisterly devotion as they draw ever closer to finding Pidge's missing sister, Amelia Earhart. The mystery kept me thinking–and hoping–long after I finished reading!"
"Soaring with the thrill of possibility, The Last Grand Adventure delivers an intimate tale of navigating rough pockets in life's airspace, chasing dreams, and discovering that the greatest journeys are filled with mystery, risk, setbacks, laughter, and a whole lot of heart." —
Jessica Lawson
, author of
Waiting for Augusta
"Hooray for
The Last Grand Adventure
, an irresistible blend of historical fact and adventure-filled fiction! Behrens sweeps the reader up with this charming mystery about Amelia Earhart's whereabouts and the unbreakable bond between sisters. Traveling with Twelve-year-old Bea and her rule-breaking, free spirited grandmother Pidge across America in 1967 was the perfect way to explore timeless lessons about following dreams, taking risks, persevering, and the unshakable strength of family ties." —
Nikki Loftin
, author of
Wish Girl
The Details
Coming from Simon & Schuster/Aladdin on March 20, 2018
Historical fiction for ages 8+
ISBN: 9781481496926
Preorder from:
Barnes & Noble
Indiebound
Amazon
Books-a-Million
or your local bookstore (the ISBN is 9781481496926)
And you can add The Last Grand Adventure to your shelves on Goodreads.
ARC Giveaway Instructions (the long version):
To enter to win an ARC, simply leave a comment on this post. Don't worry if it doesn't appear right away–my site requires approval for all comments. If you'd like an extra entry, you can sign up for my newsletter or tweet about this cover reveal. Make sure to let me know in your comment if you did one or both of those! This giveaway is open to readers in the US and Canada, and will end on Wednesday, June 28. I'll announce the winner, chosen randomly, on Thursday, June 29. Good luck, and thanks for entering!
Update: Congrats to Kaitlin Hundscheid, who won the ARC–I'll send you an email shortly. And thanks, all, for the cover love!