My mom sent me this photo over the weekend of When Audrey Met Alice still on a B&N shelf,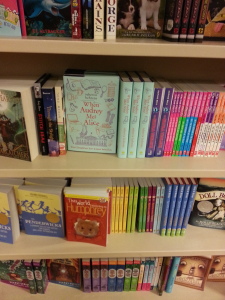 and I realized that it was a year ago that I first saw my book in a store. Today's the actual anniversary of my pub date, 2/4/2014. It's been a whole year! And if I had to sum it up in a word, it would be grateful.
There is a learning curve to being a published author. Some parts I prepared for: ordering stickery swag; creating what I hope are fun, educational, and inspiring presentations for kids; figuring out my elevator pitch to tell people about my book. Other things I learned along the way: Like, always bring your own cords to a school visit, and have your presentation backed up on a flash drive just in case your own cords still don't work with the AV equipment. (Because where there is technology, there are snafus.)  Also, there is a real art to talking while signing books, without misspelling your own name.
But I don't know that anything prepared me for how truly meaningful it is share your stories with young readers. I visited The Young Women's Leadership School in East Harlem last week, and we had a great discussion about writing. I came home to three notes from readers, in the form of a Facebook message, an email, and snail mail (thanks, Onata, Olivia, and Grace!). The road to publication got a little bumpier for me in the past few weeks, but that day was a reminder that I've already been given such a wonderful gift in this opportunity to connect with other readers and storytellers. So, to everyone who has supported me and my book over the past year–especially the educators and booksellers who have welcomed me into their classrooms, libraries, and stores–thank you!