A lot went on in publishing this week,* but this post isn't about that. Because the week before, I did something that middle-grade me would've been over the moon about:
I met a manatee.
I first read about manatees in a random Sleepover Friends super special (Super Beach Mystery) when I was in elementary school. I couldn't believe that I'd never heard about this "sea cow" creature before, considering how much I loved marine mammals. The more I read about manatees, the more curious I became. They are vegetarians who eat 10% of their body weight daily! They are related to elephants! The communicate with a language of clicks and chirps! I ended up fundraising for the Save the Manatee club (through which I adopted my first manatee, Boomer), and I even wrote my first "book" about them as a school project, MANATEES: PROBLEMS HELPS.
But being a kid in Wisconsin, there were no manatees near me. Years went by, I never stopped finding them delightful–but I never had a chance to see one.
Last week, my husband and I were in Florida to escape the cold. We took an hour to drive inland from Sanibel Island and found the Manatee Park. I ran down the path (dodging a very realistic statue of an alligator–you would've shrieked, too!) and up to a river, and then I saw my first ever manatee.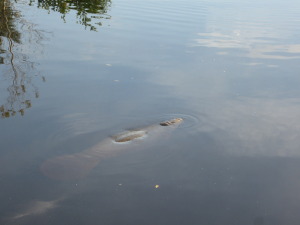 Later on in the trip, we took a special tour at the Miami Seaquarium, which is one of three facilities that can rehabilitate injured manatees. (Sadly, part of the reason why manatees are an endangered species is because they are frequently harmed or killed by speeding boats.) That was where I got to meet Julia and Phoenix and feed them some of their favorite treats (sweet potatoes and grapes).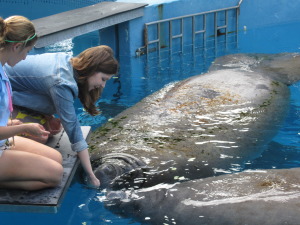 It was so cool to get to interact with them–manatees are friendly, curious, and smart. They are also HUGE. Somehow, all the photos I've seen over the years did not do justice to their size.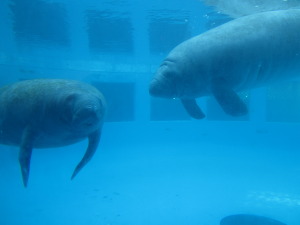 As a thirtysomething it was a great way to spend an afternoon, but I kept thinking about how ridiculously excited middle-grade Rebecca would've been about talking to people who care for manatees–and getting to feel manatees' whiskers as they gobble up lunch. It reminded me how awesomely curious and passionate kids are–one of the many reasons I love writing books for young readers.
Every grown-up should remember something that they loved fiercely or studied enthusiastically as a kid, and reconnect with it. It's good for the soul.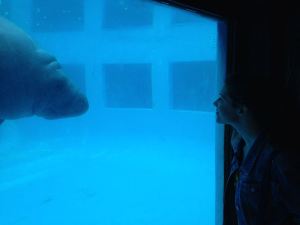 *A brief note about the sad news from Egmont USA. Yes, Summer of Lost and Found was affected by the decision to close the US operations. Hopefully, I will be able to share more information on what's next for my book soon. Until then, I'd like to acknowledge how wonderful it was to be an Egmont author, and what a privilege it was to work with Jordan Hamessley and the rest of the team. Published and Spring 2015 Egmont books will still be distributed by Penguin Random House–go and check them out!