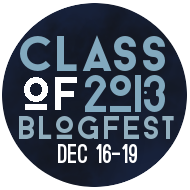 It's time for the 3rd Annual YA Superlative Blogfest! Jessica Love, Tracey Neithercott, Alison Miller, and Katy Upperman host this blogfest, which highlights favorite YA novels, covers, characters, and story elements. It's fun to go through the list of 2013 YA releases I've read, and it's even more fun to get a bunch of new titles to add to my TBR list. Today wraps up the blogfest with Best in Show.
Best in Show
Favorite Cover: I loved the cover for The Art of Wishing–it was dreamy but grounded, and it had a lovely script-inspired font.
Most Likely to Make You Miss Your Bedtime (Book you couldn't put down): The 5th Wave, definitely. Once I started reading, I should've cleared my calendar. It was truly unputdownable.
Best Repeat Performance (Favorite sequel or follow-up): This feels like a cheat, but Just One Year. Both books were their own stories within a closely tied pair. I suppose Just One Year could've felt redundant, but instead it built on the story in Just One Day, beautifully.
Best Old-Timer (Your favorite read of the year published BEFORE 2013): I finally read Code Name Verity this year, which was worth the wait. (Or maybe I shouldn't have waited, because it's a really excellent, powerful book.)
Book Most Likely to Make a Grown Man Cry: Probably Second Chance Summer, which is such a tearjerker that the book should be shrink-wrapped with a big box of Kleenex.
Most Pleasant Surprise (Book you didn't think you'd like, but totally did): I'm going to have to give this one to The 5th Wave, too–I don't like aliens, and sci fi/dystopians are not usually my thing. But I really enjoyed this one. 
Favorite Outlier (Favorite picture, middle grade, or adult 2013 book): A favorite MG of this year was Tim Federle's Better Nate Than Ever, which is hilarious and heartwarming, and should be required reading for mildly disgruntled New Yorkers. It made me want to go kick up my heels in Times Square–and that's saying something!
My superlative: Best Friendship: And that goes to Red. I love reading about strong, honest, and supportive female friendships, and that's exactly what Felicity's trio is!
What were your picks for Head of the Class? I skipped over a few categories, so I'd love to hear your picks for those!