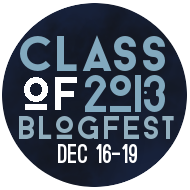 It's time for the 3rd Annual YA Superlative Blogfest! Jessica Love, Tracey Neithercott, Alison Miller, and Katy Upperman host this blogfest, which highlights favorite YA novels, covers, characters, and story elements. It's fun to go through the list of 2013 YA releases I've read, and it's even more fun to get a bunch of new titles to add to my TBR list. Today kicks off the blogfest with Head of the Class, and I'll be posting again on Thursday for Best in Show.
Head of the Class 
Favorite Science Fiction: I was a little iffy on how to categorize The 5th Wave, but I'm pretty sure it fits best as Science Fiction. This book is riveting, and I can't wait for the sequel, out this spring. Coming from someone who regularly has nightmares about alien invasions, that says a lot.
Favorite Contemporary: Sure, Just One Day/Just One Year are technically romances. But what I loved about this contemporary duo was how the very romantic story was about self-discovery (for both characters!) as it was about love and passion. The journey, both literal and figurative, that we went on with Allyson and Willem was as sweetly compelling as the romance.
Favorite Historical Fiction: Out of the Easy is full of secrets and strong women and a really great setting (the French Quarter of New Orleans in the 1950s). Ruta Sepetys again has created characters and places that you can't soon forget.
Favorite Comedy: Alison Cherry's Red is technically a satire–and it's a wickedly funny one. IMHO, the best humor is smart humor, and the pageant shenanigans in Scarletville are full of that.
Favorite Paranormal: Speaking of funny, The Art of Wishing is also hilarious–and full of action and romance. Margo is a relatable, funny, and smart narrator, and I adored her passion for music. I'm excited for The Fourth Wish this spring, so I can figure out what happens next with gender-bendy genies.
Favorite Family Drama: Bring your tissues for the family drama in Second Chance Summer, which tackles very tough subject matter with grace, empathy, love, and just the right amount of humor. This one is moving and memorable.
What were your picks for Head of the Class? I skipped over a few categories (Favorite Dystopian, Favorite Fantasy, Favorite Action/Adventure, Favorite Mystery, Favorite Romance, Favorite Genre Bender), so I'd love to hear your picks for those!