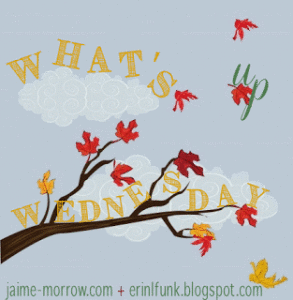 What's Up Wednesday is a weekly meme that helps readers and writers touch base with blog friends. If you'd like to join in, you can find the link widget on Jaime's and Erin's blog posts. I love this idea because it gives a structured, easy way for me to keep up with blogging. Also, the buttons are cute. Thanks for the idea, Jaime and Erin!
What I'm Reading 
Last week I read Just One Year in just one day. I loved getting to see the other side of the story; I'll say nothing else because I don't want to spoil anything. Then I lucked into an ARC of Nikki Loftin's Nightingale's Nest. It's beautiful and unique and haunting, and I'm savoring every word.
What I'm Writing   
Still doing odds and ends for the business side of writing. When I'm not doing that, I am playing around with a new idea. This is a project I'd maybe like to work on for NaNo in some form. I guess for now I'm treating it more like a writing exercise and less like a WIP, if that makes sense. Sometimes you need space to play with words in order to work with them.
What Inspires Me Right Now   
I had the day off on Monday, so I went up to the Bronx Zoo. A lot of little kids were running around in their adorable Halloween costumes.  Dime-store capes and some face paint are all it takes to let them create adventures for themselves.  It's always fun to see children being imaginative and playful, and I find the creativity surrounding Halloween really inspiring–that's probably why it's one of my favorite holidays. (Also the candy. Mmm, candy. I think I might actually get trick-or-treaters this year, so I have an excuse to stock up.)
What Else I've Been Up To
Last Friday I went to Alison Cherry's launch party for her debut, Red! It was at the lovely BookCourt in Brooklyn, and it was a fabulous time.
And in other news, there's a Goodreads ARC giveaway for When Audrey Met Alice going on right now. You can sign up here!
So what have you been up to lately?