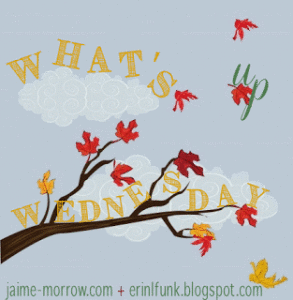 What's Up Wednesday is a weekly meme that helps readers and writers touch base with blog friends. If you'd like to join in, you can find the link widget on Jaime's and Erin's blog posts. I love this idea because it gives a structured, easy way for me to keep up with blogging. Also, the buttons are cute. Thanks for the idea, Jaime and Erin! 
What I'm Reading 
Last week I read Steve Martin's An Object of Beauty, which was a story of high art, love, money, and ambition–told in a very readable Steve Martin-y voice. Now I'm finally reading Alison Cherry's Red! Truth: It's making me want to dye my hair.
What I'm Writing   
I've decided to work on a "palate cleanser" project–something just for fun, and for me–and I think I might try to NaNo to finish it. Which definitely makes me an unofficial NaNoer. But I'm excited to try to push myself to write as close to 50K words as I can next month!
What Inspires Me Right Now   
Still loving the Halloween time of year. Last weekend I went on a Ghost Tour of Greenwich Village, and it was super fun. (Super touristy, yes, but I strongly believe that sometimes tourists know how to have a really good time, and there is no shame in joining them.) The stories the guide told as we scuffed through leaves on the quiet, dark Village streets were fascinating–and inspiring. Not only did I have a total "I heart NY" night, but it gave me lots of ideas. (Okay, some of those ideas might have made me afraid of my basement. And convinced that the sound of a trailing vine scritch-scratching the window at night is actually a skeleton's hand. I love ghost stories, but I also scare ridiculously easily.)
What Else I've Been Up To 
Becoming an aunt! My nephew was born in the wee hours on Monday morning. He's adorable, and I am counting the days until I hop a plane to meet him.
So what have you been up to lately?