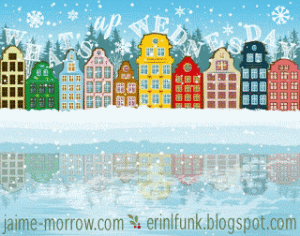 What's Up Wednesday is a weekly meme that helps readers and writers touch base with blog friends. If you'd like to join in, you can find the link widget on Jaime's and Erin's blog posts. I love this idea because it gives a structured, easy way for me to keep up with blogging. Also, the buttons are cute (especially this winter scene). Thanks for the idea, Jaime and Erin! 
What I'm Reading 
All the ARCs. Right now, I have copies of Open Road Summer, All Four Stars, What the Moon Said, and Ask Again Later on my desk or en route to me. It's a smorgasbord of 2014 debuts!
What I'm Writing   
So, November is over. The status of the project I was kinda sorta NaNoing? Done! I definitely limped to the finish line, but as of Friday, November 29 I have a completed first draft. I wound up writing about 42,000 words in November, which I'm really proud of. It was  fun to try to write without a filter and kick out a fast first draft. This WIP is one I wanted to write just for my own enjoyment and creativity–it's not something I'm going to work actively toward publishing anytime soon. For that reason, I didn't want to take too much time to write the first draft. I started writing it in early October, making this the fastest I've ever completed a draft–70,000 words in a little less than 2 months. And I'm usually a fairly slow writer!
That said, I've realized that for me to be happy with my writing and the overall process, I should allow myself a little more time in the future, or at least do a better job of outlining before diving in. (This was also my first largely pantsed project.) I'm glad I did my pseudo NaNo, though, and I'm looking forward to sometime revisiting this WIP in between other projects. I also believe that it's never a bad thing to try a new way of working–even if it ends up not being your thing, it can teach you a lot about your process and preferences.
What I'm writing now (and for the rest of the month): Nada. It's time for a break and IRL holiday stuff.
What Inspires Me Right Now
Holiday stuff: I held off until the day after Thanksgiving to get out decorations and fire up my playlists, but from now until the 26th, it's Christmastime.
I'm also inspired by all the people who shopped at their local indie bookstores on Small Business Saturday. Particularly these shoppers! http://whitehouse.tumblr.com/post/68607360338/president-obama-sasha-and-malia-shop-for-books
What Else I've Been Up To 
Listening to my nephew coo and gurgle in the background when I call my sister. He's pretty adorable; I'm a happy aunt.
And eating pie. Lots and lots of pie.
So what have you been up to lately?