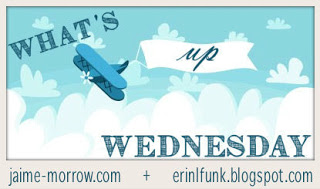 What's Up Wednesday is a weekly meme that helps readers and writers touch base with blog friends. If you'd like to join in, you can find the link widget on Jaime's and Erin's blog posts. I love this idea because it gives a structured, easy way for me to keep up with blogging. Also, the buttons are cute. Thanks for the idea, Jaime and Erin! 
What I'm Reading 
Escaping the Polar Vortex by reading Printz winner Nick Lake's Hostage Three, a smart, addictive, and chilling-in-a-figurative-way contemporary thriller about a teen girl on a yacht boarded by pirates in the Gulf of Aden.
What I'm Writing   
After taking December off from writing (which was wonderful in the way that you start longing to write again and sneakily daydream about characters, but also really enjoy the time to watch movies and read and sleep), I'm back to revising a MG manuscript. I love this story, and since I've had a long time away from it, I'm full of fresh ideas.
What Inspires Me Right Now
The new year! Reading everyone's words for 2014 has given me so many great ideas on what to focus on this year. My word is open–what's yours?
What Else I've Been Up To 
Lots of yoga, lots of work on promo for When Audrey Met Alice, and lots of time Googling images of beaches and warm places to distract myself from the temperature outside.
So what have you been up to lately?