It's time for another Bookanista recommendation: (my friend and fellow Bookanista) Jessica Love's Push Girl.

Here's the jacket copy from the publisher:
An inspiring, real, and fresh young adult novel about how life can change in an instant [cowritten by Jessica Love and] Chelsie Hill, one of the stars Sundance Channel's unscripted series Push Girls, based on [Chelsie's] own life.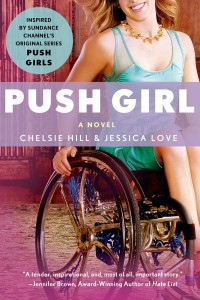 Kara is a high school junior who's loving life. She's popular, has a great group of friends and an amazing boyfriend, and she's a shoe-in for homecoming queen. Even though her parents can't stop fighting and her ex-boyfriend can't seem to leave her alone, Kara won't let anything get in the way of  her perfect year. It's Friday night, and Kara arrives at a party, upset after hearing her parents having another one of their awful fights, and sees another girl with her hands all over her boyfriend. Furious, Kara leaves to take a drive, and, as she's crossing an intersection, a car comes out of nowhere and slams into the driver's side of Kara's car. 
When Kara wakes up, she has no memory of the night before. Where is she? Why are her parents crying? And, most importantly — why can't she feel her legs? As Kara is forced to adjust to her new life, where her friends aren't who they seemed to be and her once-adoring boyfriend is mysteriously absent, she starts to realize that what matters in life isn't what happens to you — it's the choices you make and the people you love.
I've been telling every YA reader I see about this one, which is both a great contemporary YA novel and a really powerful story of handling adversity with grace, grit, and hope. Kara is a character I won't soon forget–my heart broke for her many times as I read. I loved how as the story progressed, Kara not only started to rehabilitate physically, but grew emotionally. Her injury brings physical limitations, but the new way she looks at her world and her self brings Kara so much agency. Even before the accident, Kara encounters things in her life that are beyond her control. But it's only after that she has gained the strength to make healthy choices about how she responds. That's an important lesson that all teens can relate to: you can't always control what happens to you in life, but you can control how you respond.
Push Girl is also eye-opening and informative about life with spinal-cord injuries. Reading it, I realized how many incorrect assumptions I had about how people can recover and live independently after sustaining such a traumatic injury. I watched a few episodes of the Sundance Channel show, Push Girls, after reading and I highly recommend it–it's a really powerful and engaging series.
I think teen readers are going to get so much out of reading this book–a well-written, diverse contemporary story and an invitation to think about how one chooses to live life.
And now I really can't wait for Jessica's next YA novel, In Real Life, which will be out in 2015!
Push Girl releases on June 3 from St. Martin's Griffin.
See what my fellow Bookanistas are recommending today: