It's time for another Bookanista recommendation: Tim Federle's hilarious and heartfelt Better Nate Than Ever.
Here's the summary from Goodreads: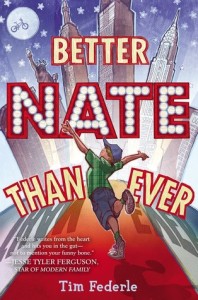 Nate Foster has big dreams. His whole life, he's wanted to star in a Broadway show. (Heck, he'd settle for *seeing* a Broadway show.) But how is Nate supposed to make his dreams come true when he's stuck in Jankburg, Pennsylvania, where no one (except his best pal Libby) appreciates a good show tune? With Libby's help, Nate plans a daring overnight escape to New York. There's an open casting call for E.T.: The Musical, and Nate knows this could be the difference between small-town blues and big-time stardom.
You know how movie ads used to always feature an announcer saying, "Blah Blah Movie will make you stand up and cheer!" Well, Better Nate Than Ever will make you stand up and cheer. (So since you'll be standing up and cheering, watch what you're wearing while you read because it might also make you pee your pants. It's that funny.) Nate is a protagonist you will root for, cringe with, and want to give a big huge hug. Mostly, you'll wish you could be there in the scenes with him, to watch him be in the world with such hope and wonder. I love how exuberant the boy on the cover is; I love it even more after reading the book and knowing that Nate encounters some real hardships.
Reading this felt like a bit of bibliotherapy for me. I do a lot of my reading on the subway, and as much as I love New York, sometimes it seems one or more of the following: stressful, crowded, dirty, stinky, rude, exhausting, expensive, noisy. Et cetera. While reading, I felt like I could vicariously fall in love with my new hometown all over again, seeing it through Nate's eyes. Or at least laugh hysterically at the uber realistic details Tim Federle weaves into the story–and bonus, that makes the people next to you on the crosstown bus scooch away and give you a little more space! Win win.
See what my fellow Bookanistas are recommending today: