It's time for another Bookanista recommendation: Michelle Schusterman's delightful new MG series, I Heart Band.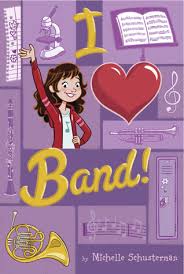 Here's the Book 1 back cover copy from the publisher:
Band Geeks unite in this fresh new middle-grade series by debut author (and former band director) Michelle Schusterman!
Holly Mead's first day of seventh grade isn't going as planned. Her brother ruins her carefully chosen outfit, she's almost late, and her new band director has some surprisingly strict rules. Worst of all, it seems like her best friend, Julia, has replaced her with Natasha, the pretty, smart, new French horn player! Holly is determined to get first chair, but Natasha is turning out to be some pretty stiff competition—and not just in band. Band might be a competition, but friendship isn't—and Holly needs to figure it out before she loses Julia for good.
First things first: I ♥ I HEART BAND!
(And now second thing second, which is a disclaimer: I'm about as biased as you can get about this series because not only am I employed by the publisher, but the author is a friend. That said, this post is solely my opinion, and my enthusiasm for these books would be just as strong even if I weren't professionally/personally involved in their publication.)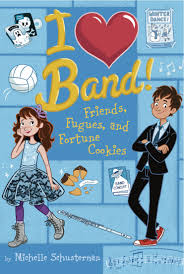 I love what this series features: friendship, community, and creativity. Oh, and French horns, which I played in my middle-school band (oh, the memories!) In addition to being hilarious and heartfelt (and containing an ideal amount of pitch-perfect MG crush and friend drama), this series admirably celebrates music education, which is disappearing from far too many schools.
Both Book 1 and Book 2 (Friends, Fugues, and Fortune Cookies) are available today!
See what my fellow Bookanistas are recommending today: