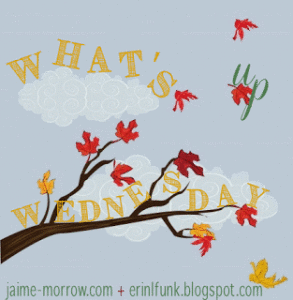 What's Up Wednesday is a weekly meme that helps readers and writers touch base with blog friends. If you'd like to join in, you can find the link widget on Jaime's and Erin's blog posts. I love this idea because it gives a structured, easy way for me to keep up with blogging. Also, the buttons are cute. Thanks for the idea, Jaime and Erin! 
What I'm Reading 
I just finished two great MG reads, Rachel Searles's The Lost Planet and Jane Kelley's The Desperate Adventures of Zeno & Alya. Now I'm reading South of Superior–I loved the author's MG book, Prairie Evers, so I hope I'll love this, too!
What I'm Writing   
See yesterday's post about the project I'm kinda sorta NaNoing.
What Inspires Me Right Now   
This post from Natalia Sylvester on revising her approach to NaNo, and this one from Leila Austin at YA Highway about what isn't failure. They're great perspective for the craziness that is writing in November.
I was also super excited to read the Kirkus review for my friend Michelle's debut, I Heart Band. They loved it!
What Else I've Been Up To 
Well, mostly writing and working. But I'm excited to head back to the Midwest to meet my new nephew this weekend.
So what have you been up to lately?