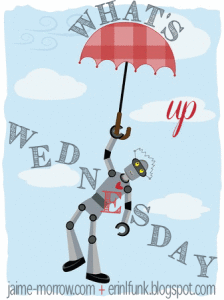 What I'm Reading
I read a ton of books (or what amounts to a "ton" for me) in March: No Surrender Soldier, Let's Pretend This Never Happened, Leading Man, The Secret Hum of a Daisy, The Ninja Librarians, and Push Girl. Now I'm back to Barbara Kingsolver's Flight Behavior, which I reluctantly put aside when I was in the middle of a debut-author ARCapalooza.
What I'm Writing
I'm back to revising an old manuscript and doing some research so I can begin outlining a new one. I'd love to be finished with these revisions in the next week or two so I can focus on outlining. In truth, I am itching to get to the drafting stage of this new project. I'm one of those writers who gets caught up in counting new words–sometimes I need to remind myself that reading/researching, outlining, and daydreaming is part of the writing process–and that time "counts," too.
What Inspires Me Right Now
I am knocking on wood as I type this, but I think it's finally warming up! Thanks to longer days, I'm loving going home from work while it's still light out. Hooray, spring. 🙂
What Else I've Been Up To
I finally got back to a yoga class, after a few months off due to an injury. It was kind of a bummer to realize how much I still can't do, but it feels great to know that I'm making progress.
A quick note on an online event I'm doing this week: Booklist Webinars is hosting me and three other New Leaf Literary debut authors for an hour-long presentation on our books and the the debut experience. It's free, and should be a fun conversation! You can register here: https://alapublishing.webex.com/alapublishing/onstage/g.php?t=a&d=662413562
So what have you been up to lately?
What's Up Wednesday is a weekly meme that helps readers and writers touch base with blog friends. You can find the link widget (and cute buttons!) on Jaime's and Erin's blog posts.